Mission Statement
Camp Fircom's mission is to create communities of belonging and experiences to grow on.
Accessibility
We provide opportunities for people of all incomes levels to experience our summer camp programs.
Belonging
We create an environment of acceptance, safety, and belonging for every that is inclusive of all ages, ethnicity, races, genders, gender expressions, sexuality, and ability.
Spirituality
Grounded in United Church values, we welcome people of all faith traditions, or no faith tradition, to explore and express their own spirituality.
Nature
We promote the intrinsic value of nature and strive to be stewards of the natural environment.
Learning
We provide opportunities to learn life and work skills through experiences that range from fun, to challenge, to reflection.
Healthy Living
We foster balanced lifestyles through physical exercise, nutritious food, rest, and joyful activity.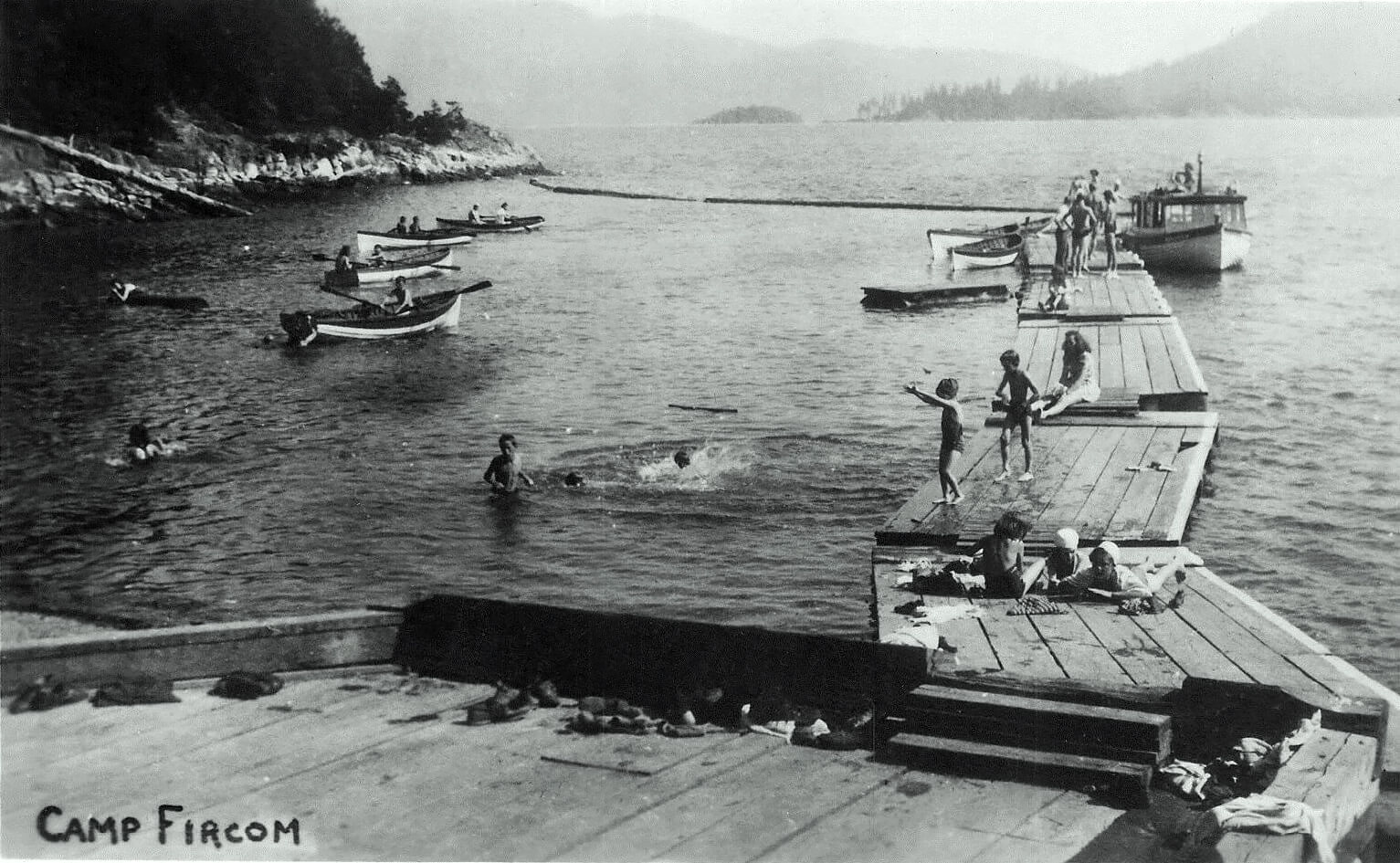 1923-1929
Camp Fircom began as an outreach program in the Downtown Eastside of Vancouver, Canada's poorest neighbourhood and was developed by the First Presbyterian Church (the forerunner of First United Church) and Community Services (the forerunner of Social Services). The name came from these two institutions: FIR from "First" and COM from "Community".
Rev. J. Richmond Craig was concerned about the crowded living conditions of the rooming houses of the Downtown Eastside and about the mothers and children living in squalid conditions. Rev. Craig and members of his congregation rowed out into the Howe Sound to explore a homestead on Gambier Island. This lead to the purchase of 65 acres of land that would become Camp Fircom - a place of rest and healing for many.
In the early years, campers arrived by rowboat and slept in tents in the open fields. The original farmhouse was used as the kitchen and dining hall. Campers ate in shifts as only 15 people could be accommodated at a time. The meat, milk and butter were cooled in the stream that runs through the property. Eventually six small cabins were built to accommodate the growing camp. After six summers of camping, Rev. J. Richmond Craig moved to Winnipeg in late 1929.
1930 - 1948
Major construction of camp buildings is credited to the Reverend Andrew Roddan, the superintendent of the First United Church. In anticipation of the 1935 Golden Jubilee of the First United Church, a major fundraising campaign was launched. The goal was to rebuild the church, create a new Welfare Industries facility, and construct a dining hall for Camp Fircom. While the campaign was only partly successful, Jubilee Hall was constructed. Through donated building materials and a combination of paid and volunteer labour, Roddan got the hall, and a few other smaller buildings, completed in time for the 1936 summer camping season. Jubilee Hall became the physical heart of the camp.
Until his death in 1948, Andrew Roddan was the major personality presenting the needs of Camp Fircom to the wider community. He believed deeply in the mission of Camp Fircom and injected much of his time and energy to expand Fircom's ability to deliver.
1979
Camp Fircom incorporates as a non-profit with the title of Camp Fircom Society of the United Church of Canada. It continues to work out of First United on the Downtown Eastside of Vancouver.
2005 - 2010
In 2005, Camp Fircom closed as a major renovation was needed. In 2008, Fircom launched a renovation with the support and visioning from Fircom's Board of Directors and alumni and with the financial and leadership support came from BC Conference of the United Church of Canada.
2011 to Now
Fircom re-opened its doors in May 2011 with a new and renovated site and a direction that respected the camp's history. The new facilities allowed Fircom to offer the space to corporate groups and weddings. These rental groups have in turn supported the mission of offering accessible summer camp programs. Fircom has a growing, dedicated group of campers through exceptional programming such as our renewable energy systems and organic farm.